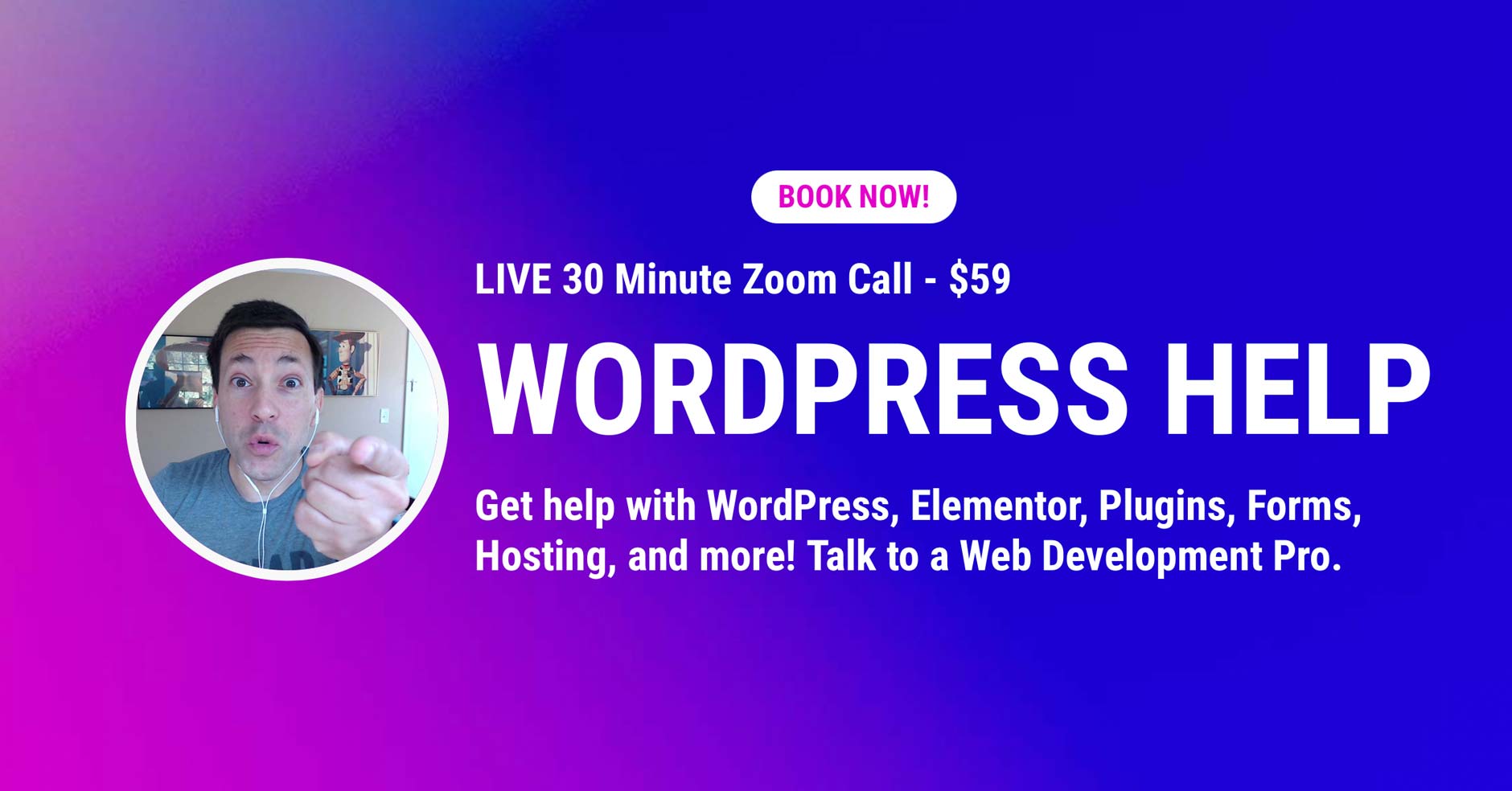 Need help using WordPress? You've come to the right place. Schedule a call with me, and you'll supercharge your knowledge base when we apply my 20+ years of web development experience to your situation. Consider these scenarios:
1. WordPress Hosting Help
Many of our clients come to us needing help with their WordPress web hosting. They've been wasting time with slow-response ticket systems and on the phone with off-shore support. It takes too much time just to get them to understand your problem. Then, once they are up to speed, they lack the expertise to actually help.
On the other hand, we specialize in website/hosting optimization, debugging issues with your plugin and theme setup, and serving as your webmaster-on-call. You want a website that's reliable and easy to use, and we make that happen by taking care of all those backend details.
2. Elementor Training
Elementor has quickly become the premier page builder for WordPress. Featuring an industry leading drag-and-drop editing interface, building websites with Elementor can feel like painting with limitless possibilities a brushstroke away. However, despite its ease-of-use, Elementor still has a learning curve. So we're here to provide you with a trusted Elementor resource. We've built over 100 websites using Elementor and the Hello Elementor theme. We can help you figure out how to build global headers and footers, setup custom post type (CPT) templates, utilize the new Loop Builder, and adopt best practices to make building your sites easier and more efficient.
3. WordPress Plugin Advice
One of the great things about working with WordPress is there are tens of thousands of plugins available to extend its features. That can also be daunting when you don't know which one(s) to pick. Given our experience with WordPress and WordPress Plugins, we can advise you on the best plugins for your use-case. Some of our favorites include Gravity Forms for form building, Elementor/Elementor Pro for page building, Advanced Custom Fields for adding admin fields to the post editor, and iThemes Security Pro for hardening your site.
What's more, sometimes the best WordPress Plugin Help is knowing when not to reach for the latest plugin. Instead, we always aim to build sites with the fewest possible plugins so as to reduce bloat, optimize your site, and keep your security profile low by limiting your website's potential points for vulnerabilities.
4. Which WordPress Theme Should I Use?
We'll save you a Zoom call and pass along our best advice right here: Our preferred theme for building WordPress websites is the Hello Elementor theme. It's available for free via the WordPress plugin repository. Combine it with the Elementor page builder, and you've got a blank canvas for building virtually any website design. Check our portfolio for numerous examples of websites we've built using this combination.
Keep in mind, what we're recommending here is a "blank slate". In other words, once you activate the Hello Elementor theme, your site will have extremely minimal styling. However that's what we love about this theme as it allows us to build out our own designs from scratch without working against the default styling of more opinionated themes. Hello Elementor sets you up with everything you need to build an Elementor site and nothing more. It's up to you to build things out according to your sensibilities, and if that seems intimidating to you, we're more than happy to help you get up to speed via a Zoom call.
5. Secure Site/SSL/HTTPS
Is your website served via a Secure Socket Layer (SSL) certificate? Check it now by typing https:// before your website domain. If you can browse your site over https:// without any errors, then you should be good to go. If your browser does give you a warning, grab a call with us, and we can point you down the path to properly securing your site. Keep in mind, serving your website securely is a vital part of modern day "good website hygiene" as most browsers will show a Not Secure warning, and Google considers https:// as a search ranking factor.
6. Shopping Cart Setup
If you want to sell products on your site, you're probably thinking you need to add "shopping cart software" or some other buzz-word for e-commerce. You're on the right path, and we can help you get to the finish line with your e-commerce plugin configuration and payment processor selection and setup. We're well-versed in everything from customer experience on your site all the way to ensuring credit cards get charged properly with the funds landing in your bank account.
7. Webmaster/Web Developer On Call
Has your web developer "ghosted" you? We've become the trusted resource of numerous clients who have come looking for someone like us whenever their original webmaster went AWOL. In other words have you been left "high and dry" with a website in need of critical updates and you're afraid you'll break it? Have us take a look, and we can advise you on your next steps.
We can help you sort out your website hosting versus your domain registration. We know how to take care of your website and email hosting. For example, have you ever had someone say they're going to update your DNS for your website, and they end up knocking out your email? We know the difference between the MX(Mail eXchanger) and TXT/SPF/DKIM records for your email versus the A and CNAME records that point your domain to your website, and we know how to work with each separately so as not to cause issues with one or the other.
---

Need help and see yourself in any of the above scenarios? Go ahead and grab a call with us. If your situation isn't covered above, there's still a good chance we've seen it before. Failing that, I'm sure we can help you figure it out. Got questions? Feel free to comment on this post.